Payroll Management System
The Premier payroll software in Kenya is a salary processing software ideal for companies with hundreds of employees. As the best payroll software in Kenya, it helps in automating payroll processing and HR management functions of a company by a simple. Employee salaries can be paid electronically through any bank by simply generating bank transfer file for all your employees. Even payslips can be sent electronically through email.
Built to unlock company potential, this payroll management system can process salaries for unlimited number of employees. It captures unlimited number of earnings and deductions on payslips.
see; biometric access control systems
Compliance with statutory deductions can present a big challenge especially if the company has more than a hundred employees. Our payroll processing system enables companies to comply with requirements by filing monthly statutory returns electronically by simply downloading and uploading a file with the relevant authorities. Thus, our software ensures compliance with NHIF, PAYE, P9 forms, HELB etc. Still, email payslips to employees instead of hard copy print out.
Affordable salary processing software for hundreds of employees
For KES 60,000 only, Premier payroll software is most affordable in Kenya. The one time purchase cost caters for software installation and user training. No monthly subscriptions. No annual renewal fees. Get your 60 day free trial software license today for evaluation.
The software design focused on simplicity, functionality, and ease of use to deliver productivity. Most HR administrators and Payroll accountants love our software due to its robustness. What is more, Premier payroll management system in Kenya remains one of the most affordable business software.
Are looking for a reliable employees salaries processing software in Kenya? Then contact us today. We assure you of excellent customer support. After installing and setting up your payroll management system, we will offer free user training for all your key employees. We guarantee continuous technical support onsite and offsite deepening on the situation at hand.
Features of the best Payroll Software
Employee details
The personnel module basically captures and stores personal information about each employee. Indeed, the module specifically captures the names of the employees, national ID number, telephone contacts, and home address. If need be, the system can also capture employee photos, the next of kin, and even the immediate dependents.
Organizational structure
The system comes with well-defined posts, job groups, administrative units, and departments that can be customized to reflect the company's chain of authority. When a company hires new employees, they can be assigned to the existing posts or entirely new posts can be created. The same applies to administrative units, departments, and stations.
see; call center software
capture earnings and deductions
The system clearly captures all earnings and deductions. When the employee salaries have been fully processed, all earnings and deductions will be computed and net pay displayed. Examples of earnings include commissions, overtime allowance, airtime allowance, transports allowance, etc. On the flip side, deductions will include salary advance, loan deduction, etc. All these deductions and earnings can be added into the system depending on the requirements of each organization.
Send payslips on email
Going green means that as much as possible we avoid printing paper. Where possible, the printing of payslips on paper should be avoided. Thus, the system allows users to receive payslips by email. The payslips can be viewed electronically in PDF format. For the sake of privacy, the emailed payslips are password protected. This feature that enables the sending of payslips on email will save on the cost of printing and even help in conserving the environment.
Electronic salary payment
The premier payroll system software fully automates the entire processing HR and Payroll management function. Automating the HR and payroll function leads to error-free payroll reports and faster payment of employee salaries. So Instead of employees queuing outside the accounts office, all their salaries will be channeled through the individual employee bank account. Furthermore, our premier payroll management system is compatible with all commercial banks in Kenya. Indeed, electronic salary payment is both safe and efficient.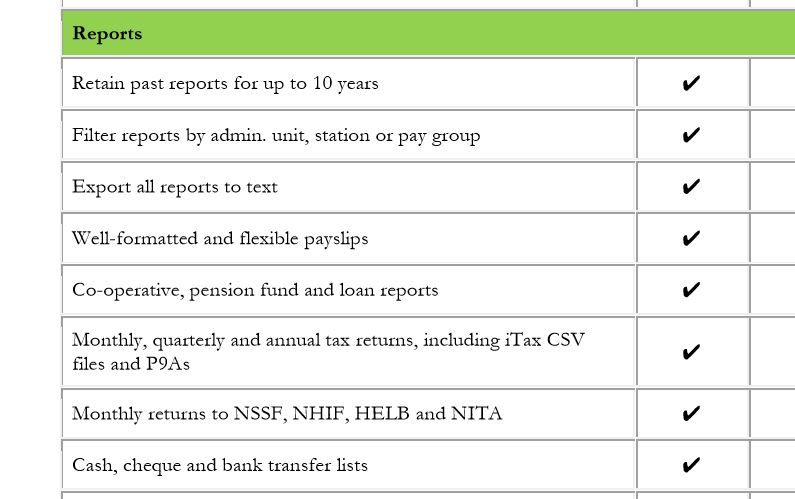 Import staff data
This feature is very important, especially when handling data from a big number of employees. So instead of entering employee detail one by one, you can actually upload. Thus, first, enter the information in an excel sheet, then verify that the information entered is correct. Next, convert the excel sheet into s system readable format then upload the file. This saves the HR staff time by uploading the entire list of employees one time.
see; computer networking company
Payroll in Foreign currency
In as much as our payroll management system has been designed to cater to companies in Kenya, it has a feature that enables foreign currency transactions. This is particularly ideal for companies who have hired expatriates and foreign nationals with specialized skills. By processing payroll in foreign currency, you can use US dollars or any other preferred foreign currency for salary processing.
Multiple organizations
Our payroll management system supports creating and running multiple organizations. This feature is ideal for the business owner who has an interest in more than one company. For example, a business person might be owning several companies e.g. petrol filling station, a supermarket and a security firm. All these companies can have distinct payroll functions running different company names but created on the same payroll processing software. Apart from being cost-effective, consolidation leads efficient day to day running of different businesses.
see; best IP PBX
Payroll and HR Reports
The system generates well-formatted reports for easy interpretation and decision making. The reports can be downloaded in various formats such as text and also save the reports in excel format. Some of the reports include annual leave reports, salary reports, muster roll reports, bank transfer file reports, etc. These reports will be updated automatically in case of any change in employee data such as new hires or resignations.
Monthly returns of statutory deductions
The system has inbuilt features that ensure that an organization remains compliant with government statutory requirements. Hence, the system provides a platform for capturing monthly statutory deductions and filing the returns such as iTax, HELB, NSSF, NHIF, etc. For example, the software enables employers to deduct HELB loan payments also PAYE taxes and submit them on behalf of the employees.
Leave management
The leave management module enables system users to record leave bookings and monitor absence. Employees can be absent for various reasons such as sick leave, annual leave, etc. All these days of absence can be captured into the system and a report generated. Furthermore, the system makes it easy to account for leave days taken.
Time attendance management
Having a transparent system for monitoring employee attendance creates discipline and in fact, improves productivity. Furthermore, employees will be motivated to give their best knowing fully well that those who work hard will be rewarded accordingly. Our payroll system can be integrated with any time attendance management terminals. As the time attendance system device captures employee clock in and employee clock out, the same data will be posted in the employees salaries management system. The time attendance information posted into the salary processing software can be used to process overtime payments.
System security and User management
The system by default has a super admin who cannot be deleted. However, the super admin can create and even delete all other users. The standard users created by the super admin will be assigned different roles with limited rights. Even so, the super admin will retain the important roles such as system backup, system restore and system audit, and all critical functions. All the other administrative roles can be delegated to the other users.