Manual attendance marking for a long time has proved to be inconsistent and prone to human errors. And the information gathered at the end of the month from these paper registers are mostly inconsistent and unreliable and unintelligible. However, Matrix Biometric Time Attendance System provides a solution for the aforementioned weaknesses and still offers much more in terms of value.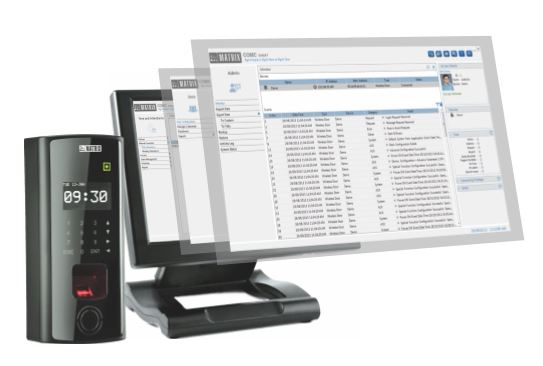 With the biometric devices, it will be impossible for an employee to punch on behalf of a colleague. Also, scalability and efficiency can be achieved when this system is used to handle multiple biometric attendance devices deployed in multiple locations. Nonetheless, the attendance management system can still be installed as a standalone setup in a single location. Access control systems can be used for attendance monitoring.
Forty Servers is an authorized distributor of Matrix time attendance systems in Kenya. Even though biometric attendance systems are commonly used to monitor employee attendance. The Matrix attendance management system can be customized for use in schools and the institutions of learning in Kenya. Contact us today by filling the form below for a biometric solution that is flexible, scalable, and saves you money.
Features of the Matrix time attendance system
Organizational structure
The company structure and organizational hierarchy differ from one company to the other. Matrix biometric time attendance software enables you to create an organizational structure that best represents its distinctive management hierarchy. Create departments and sections, as well as job designations or grades. Then, leave policies can be created and assigned to employees based on job grades. And this is purely customizable and will definitely vary from one organization to the other.
Late in and Early out feature
In order to enforce discipline in time management, the Human resources department will come up with enforceable policies to guide employees. The Late in / early out feature will help the HR department to instill employee time management discipline. For example, it can be decided that any employee who reports 30 minutes past 8.00 am is late. Likewise, any employee who leaves the office 30 minutes before 5.00 pm will be early out. These reporting guidelines can be tweaked to accommodate the various work shifts.
The Overtime feature
This feature is particularly important for companies that pay overtime allowances. If not well monitored, certain employees might claim overtime allowances even though the hours worked do not qualify as overtime. This feature will automatically calculate overtime hours worked and a report generated to that effect. Due to the nature of the automated time attendance system, the electronic report generated will be accurate leading to the payment of accurate overtime allowances.
Broadcast alerts feature
This feature can be used to simplify making announcements to large groups of employees. The superuser can create, schedule, and send various group messages all at once. For example, the HR department can send a message about new changes in work shifts, an upcoming holiday, etc. this feature brings about efficiency in communication and a good platform for managing rumor-mongering.
The Public holiday feature
In as much as public holidays tend to be pre-planned, this feature was specifically designed with schools and institutions of learning in mind. Matrix time attendance for schools will enable administrators to schedule school holidays in advance. Details capture in the schedule includes when the school holidays start, and when the students are expected back to school. And this communication will be passed to parents and guardians through text message.
The Matrix time attendance system for schools has an efficient messaging platform that sends notifications to parents when the student has been released to go home. Equally, the system will send a notification to the parent on the school opening day once the student clocks in.
Staff attendance reports
Matrix biometric time attendance software can be configured to generate various types of reports. Some of the reports generated by the system include weekly attendance sheets per employee, leave reports, overtime reports among others. These reports can be generated in various formats including PDF, Excel, and even charts.
System Administration
A super will be created who will be in charge of system administration. Some of the roles of the superuser include backing up the attendance software, importing new data, and updating system settings e.g. correcting date and time. Other privileges of the superuser include the ability to create other users and assign them roles. And even checking system logs.
Benefits of attendance management system
Accurate attendance reports
The traditional methods for marking attendance are susceptible to errors and manipulation. Having in place a biometric time attendance system leads to accurate and foolproof attendance records. The management can rely on accurate reports process salaries. Also, accurate attendance reports can be used for managerial decision making.
Increased employee productivity
The automated employee attendance management system will lead to increased employee performance. To start with, the employees who formerly used to report to work late will start reporting early. Likewise, the employees who used to leave work early will also start leaving at the recommended time. The time management discipline brought about by automation will increase the number of hours at work leading to increased productivity.
Leave management
In as much as the time attendance systems majorly focus on time management, the system comes with a module to facilitate electronic leave management. Hence, the system allows the creation of leave policies, and even work shifts. The work shift feature will be most ideal for large enterprises with different reporting times. Retail stores, wholesale, and supermarkets in Kenya benefit from the time attendance system leave management. Thus, the employees will be able to apply for leave and their leave balances updated regularly.
System flexibility
Attendance systems are highly flexible. This means that the system can be customized to reflect the true organizational structure f a company. During system installation and setup, clients can create as many departments and functions as possible to address their unique needs.
Integration with payroll management system
In as much as time management is an independent function. It requires integration with third-party software to increase overall value. The Matrix time attendance solution can be integrated with payroll software or a company enterprise resource planning (ERP) system. The value created when these two solutions are merged together is phenomenal.
Instant notifications and alerts
Another benefit of automating attendance is instant notifications. As soon as the employees' clock in the morning, notifications are sent instantly to the main database. The same notifications will be sent when the employees clock out in the evening. The system can be configured to send email notifications as well as text message alerts to employees.
Contact us today for the best biometric solutions in Kenya