CCTV technology has come a long way. As for CCTV Camera Installation price in Kenya, we ensure our clients gets value for money. The video surveillance technology of yesteryear has been rendered obsolete due to the rapid innovation in the security industry. Clients looking for security surveillance for office, home or shops, you contact for for the best CCTV cameras prices in Kenya. For instance, CCTV installation price for a small shop will come to around KES 35,000. However, this price might go up or down depending on the specifications. Besides ordinary HD cameras, we also stock IP cameras. Today we have a centralized IP video surveillance system that can handle complex security requirements.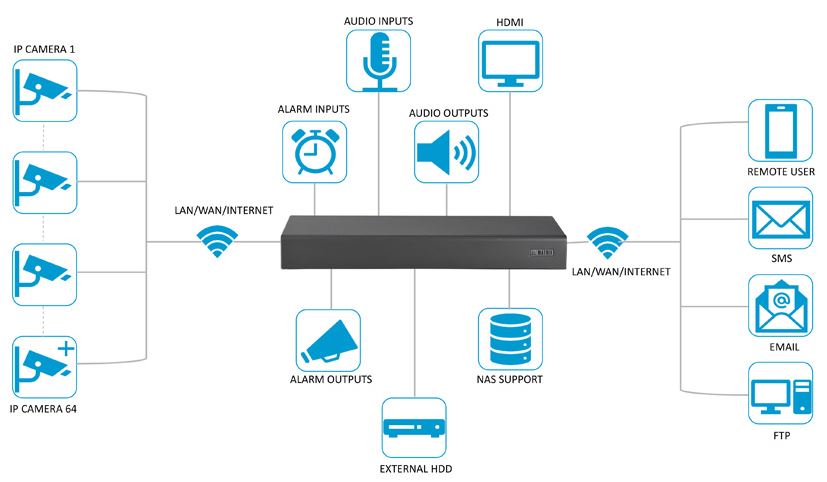 The yesteryear CCTV technology was about deterrence. However, customers have found analog CCTV technology limiting. Today, customers are asking for more features like video analytics, and the ability to centrally manage multiple CCTV cameras installed in multiple locations. Furthermore, integration with artificial intelligence has made IP video surveillance a security tool that offers more in terms of video analytics.
The best IP based video surveillance solution consists of a creative mix of IP bullet cameras and IP dome cameras. Having decided on the total number of cameras to be installed, we will supply you with a network video recorder that will best support them.
see; call center systems
At Forty Servers, we offer world-class IP video surveillance solutions for small and big enterprises. Based on your requirements we will design a solution that can handle your unique surveillance requirements. In fact, with our extensive experience of handling customers with diverse requirements, we are confident of delivering to you the best solution.
Considerations for best CCTV Camera Price in Kenya
Ability to manage multiple security cameras in multiple locations
Big enterprises with branch offices require a solution that can easily monitor the events at different satellite locations. A centralized video management system will enable such institutions with branch offices to manage multiple CCTV cameras installed at different office locations. This is the ideal solution for customers in the transportation service industry.
Provide Video analytics
Artificial intelligence has made it easy to derive more value from the recorded CCTV footage. Trained security personnel can mine valuable data by analyzing different video surveillance recordings. When camera features such as motion detection and intrusion detection are enabled.
Integration with other security products
Video management applications have made it easy to integrate security cameras with other security products to create more visibility and control. Some of the security products that can be integrated include the door access control systems and the intercom system. Also, an alarm system can be integrated into the CCTV system.
In fact, the video intercom system is a product of the integration of video surveillance with the intercom system. Thus, an apartment resident can view the visitor at the gate from the indoor station. Moreover, the resident can open the gate access control system remotely from the comfort of the sitting room. This solution assures the residents of safety and convenience.
The IP CCTV camera
The IP security cameras are designed to capture and record clear recordings in color. This is because the IP cameras come with HD night vision technology that enables them to capture colored images even at night. Furthermore, the resolution of an IP camera is far much better than that of an analog camera. Better camera resolution (at least 4 megapixels) coupled with a longer IR range makes the IP cameras ideal for serious video surveillance installations.
IP cameras (Network cameras) rely on True WDR technology. This technology enables the IP cameras to capture good quality images in spite of varying light conditions. You will find them installed at the reception and other work spaces where the windows can be opened and closed more frequently.
see; best software for payroll
Be that as it may, network cameras tend to require fewer storage resources compared to ordinary CCTV cameras. In any case, the best IP cameras in Kenya come with an inbuilt storage of about 256GB. Therefore, by installing the IP-based surveillance cameras, you will save more in terms of backup and storage expenses. The fact that IP cameras are easy to install, have them very popular among CCTV camera installer in Kenya.
Most importantly, our channel partners supply us with IP67 certified network cameras that guarantee excellent performance in any environment. We stock both IP dome cameras for indoor installation as well as IP bullet cameras for outdoor installation. Contact us today for a world-class centralized IP based video surveillance solution.
The Network Video Recorders (NVR)
Organizations across the world have come to appreciate the benefit of upgrading the camera system from analog video recorders to network video recorders (NVR). The NVR is the heart of the IP based video surveillance system. And as structured cabling and computer networking company in Kenya, we do all the configurations and installations. The NVR stores recordings streamed from all the cameras. And the NVRs are designed to handle different recording capacities e.g. a 16 port NVR for 16 IP cameras, 32 port NVR for 32 IP cameras, etc.
With an NVR system, you will have the ability to monitor all IP cameras connected to a local network as well as those cameras in remote networks. This happens smoothly without the need for an intermediary server. The NVR itself has other unique capabilities apart from enabling playback of the recorded video.
To begin with, the best NVR system comes with an adaptive recording feature that helps in optimizing available storage space. When this feature is enabled, it leads to a 50% saving on space utilization. This is because the NVR uses H.265 compression technology to reduce the amount used by the video streamed in from the cameras.
The video management software (VMS)
The main application software that enables the NVR to efficient use available is the video management software (VMS). Likewise, the VMS comes with other innovative features such as camera-wise recording retention, scheduled backup, search, and retrieval facility, etc.
The VMS being a security application, it has various features for protecting the integrity of the recorded video from being interfered with. For a start, the VMS has inbuilt access levels for various users. Hence, users will be rights based on roles such as view only, view and backup, manage users, etc.
see; ZKteco time attendance system
The next feature is time and event-based search execution. After retrieving the appropriate video footage, the investigator applies either synchronous or asynchronous playback strategy to view the recordings. Other features include real-time notification about critical events e.g. IP conflict, camera tampering.
Forty Servers is your one-stop-shop for all your surveillance needs. Contact us for the best CCTV Cameras prices in Kenya, offering affordable and reliable home surveillance solutions. Whether office or home residential security solutions we have you covered. Contact us now by filling the below form for the best IP CCTV camera installation in Kenya.