Structured Cabling and Networking
As structured cabling and networking company in Kenya, we supply and install network switches, data cabinets, patch panels, ethernet cables in Kenya. We also supply and install VoIP PBX phones systems in Kenya, network firewalls and IT support services. Over the years we have exceeded the customers' expectations by installing reliable and long lasting computer networking infrastructure. This is because we have always been an innovative, agile, and reliable structured cabling installation company in Kenya.
We have remained responsive in the industry by continuously designing and installing quality telecommunications and data network cabling infrastructure. Furthermore, we guarantee high standards in all network installations backed up by an extended warranty period of 10 years.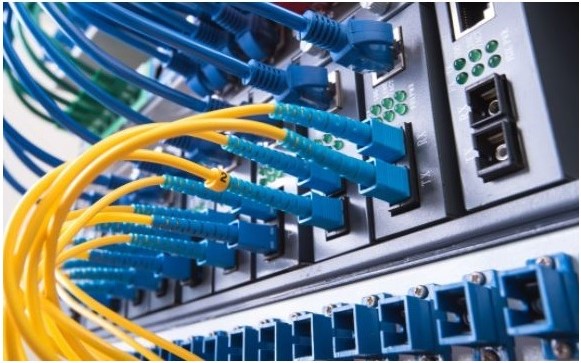 Established in 2016, Forty Servers has distinguished itself as a supplier and installer of quality telecommunications equipment installer. And structured cabling and networking systems installer in Kenya. We stock telecom and data network cabling products. And networking accessories such as patch panels, cable managers, patch cords, data modules, networking cabinets, etc. Our main goal has been to create solutions that handle present customer needs with a focus on meeting future data network cabling requirements.
LAN structured cabling
The LAN (local area network) structured cabling is an indoor network installation works. Majorly accomplished by using the copper cabling solutions like the CAT6 Ethernet network cable. However, fiber optic cable can also be used for indoor cabling installation works. A complete LAN network installation involves the installation of CAT6 Ethernet cabling from the end-user data socket all the way to the patch panel. Accessories required for a complete installation include the patch cords, CAT6 modules, cable managers, network cabinet, etc.
Our well trained and experienced network installers have done professional network cabling works for clients in various sectors of the economy. Some of our clients include government departments, corporate institutions, and even private companies in Kenya.
WAN structured cabling
The WAN (wide area network) structured cabling is an outdoor network installation works. Majorly accomplished by the use of fiber optic cabling because of the long-distance covered. Nonetheless, there are CAT6 Ethernet network cables specifically for outdoor network cabling installations.
Cabling path ways
Professionally done and neatly managed structured cabling works will depend on the kind of pathways installed. The telecommunication pathways usually installed at the building contraction stage will be used to transport cables from the equipment room to the work area. Most wok area stations will require a double data socket. One data socket for the computer and the other for the desktop phone.
The equipment room, also known as the server room, is where all active devices are installed. They include network switches, routers, network firewalls, and storage racks, etc. The work area, also known as the end-user point, is the data connection socket. This is the provision where a network user inserts an Ethernet patch cord in order to connect to the network.
Be that as it may, installing floor boxes and pedestals, and floor ducts will ensure that users have easy access to the cabled network connection in a work station setup. And the data connection sockets on the wall mostly apply to workspaces where the users sit close to the wall.
In order to avoid cabling running all over the walls, we use ceiling pathways for roof cabling installation. Roof installations mainly involve installing a wireless access point to facilitate wireless network connectivity. And implement a cable tray system, which works best for data center networking and all other installations that require a lot of cabling.
Cable management in the server room (equipment room) will require the use of vertical metallic trunks to direct cables to the adjacent network cabinet. Inside the data cabinet, all telecommunications cables will be terminated on the patch panel. And 1-meter patched will be used to activate all the data points. And cable managers to ensure that the patch cords are arranged orderly.
Data center security
Server Room Access control system
All data centers and server rooms will require a form of physical security to ensure that only authorized personnel has access. The first security system for a server room or data center is the biometric door access control system. Once installed, the access control system will ensure that only users whose biometrics have been enrolled can access the telecommunication equipment room.
A standalone access control system will consist of a biometric door entry device accessed from outside. And a door exit button accessed from inside the server room. In as much as an RFID card-based access control system can still serve the purpose, it is very susceptible to social engineering.
Data Center Fire suppression system
The second most important data center and server room safety feature is the fire suppression system. Apart from access control, it is equally very important that a fire suppression system be installed in the server room and the data center. Hence, in the event of a fire emergency, the smoke detectors will be able to trigger the fire alarm. And the appropriate fire emergency response will be undertaken.
Server Room CCTV surveillance system
The third safety feature of a data center and the server room is the CCTV surveillance system. CCTV cameras play a very important role for they provide evidence of an incident that has been captured. More importantly, all the activities in the server rooms and the data centers should be remotely monitored. Therefore, in the event of an incident, the CCTV recordings will be available for playback. All the backup can be stored in an offsite location for a period of say, 6 months, as a minimum requirement.
Additionally, modern CCTV surveillance systems come with applications for remote monitoring. In fact, the CCTV management software can be installed on a computer or a smartphone to enable remote viewing of cameras installed in the server room.
The above-mentioned security systems play a very important role not only in protecting company property. But also assure the safety of employees even as they go about executing the day to day duties at the place of work. All in all, the fire suppression systems, the CCTV surveillance system, and the biometric access control systems play a very important system role in datacenter safety.
Contact us now for the best structured cabling and networking solution.